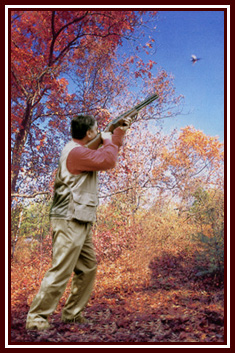 Pheasant Ridge has been in operation since 1991, and offers novice and veteran hunters the opportunity to participate in a driven-style Continental hunt from mid-September to mid-November.
We offer Private Pheasant Shoots which work well for your hunting party's private getaway or even your company's corporate retreat.

Open Hunting Events are also scheduled for public participation.
The hunts themselves take place along a wooded ridge where twelve heavily wooded uphill "butts" are strategically arrayed around the irregularly shaped hill. A minimum of 150 pheasants are released with one or two hunters at each gun position and the dog handlers and retriever dogs positioned alongside. The Master of the Hunt and the "bird boys" accompany the hunters in the field. Hunters move from one position to the next by horn signals. The challenging overhead and passing shots and the exceptionally well trained dogs make these hunts a unique wingshooting adventure.
A roasted pig with all the trimmings or a beef, pork and chicken barbecue is served after the hunt in the open-air barn.